Buying medications online is nothing new. Even before people had their smartphones and started ordering things online via delivery apps, purchasing medications online had been a trend. From OTC medications to prescription drugs, find the right pharmacy and you can buy them all. It is the prescription drugs that we'd like to focus on more because this is where fake online pharmacies victimize people causing millions if not billions of dollars of losses every year. It's going to be a long article as we point out all the aspects of those rogue pharmacies with examples and demonstrations so we ask for your patience. "Knowledge is power" so the more we know about them, the safer we will be. Let's start by answering an important fundamental question.
Why Do People Buy Medications Online?
Firstly, the healthcare system in many countries, especially in the USA, has become so complicated due to bureaucratic nonsense that getting the right medication through the regular channels is tough. You should have a good job and a proper insurance in order to get the right treatment. According to a medical doctor, "I spend 70% of my professional hours filling forms and keeping records of the patient. Only 30% of my time goes for treatment and patient care".Don't have insurance and you are dead.
Secondly, online medications are relatively cheaper. An online pharmacy doesn't have to pay rent for a storefront. It also employs fewer employees. Therefore it can afford to sell medications at a lower cost.
Thirdly, and probably the most important of all, some prescription medications may be addictive. Since our society's attitude towards addiction is negative, people who are addicted to certain medications don't come forward and ask for help. Therefore, they resort to seeking those medications online.
Lastly, there are sensitive medications like Viagra. Even with a prescription, these are drugs most people feel uncomfortable buying at a regular pharmacy with other people watching. Online pharmacies deliver the medications home so no one needs to know.
In any case, we are not here to judge or criticize why a person would want to buy medications online. We simply wish to aid those who lose a tremendous amount of money while ordering from fraudulent and fake online pharmacies. Let us identify then how many types of online pharmacies there are. For easement, we have divided them into three categories.
Related: 5 Best Online Pharmacies 2021
[Type 1] The Local Legit Online Pharmacy
They are local and they have a physical pharmacy location in the same country. The good thing about them is that since they are in the same country, they can ship the medications overnight. The bad thing is that they can only refill OTC (Over The Counter) medications. If you are looking for prescription medications, they can't. It is illegal for a US pharmacy to sell prescription medications to a US citizen without a prescription. However, there is one particular pharmacy that does it. Blink Health Pharmacy is a US-based legit online pharmacy that sells prescription medications online. Yet, there is a catch. They won't ship it directly to your home. Instead, they ship the medication to the pharmacy nearest to your home. You then have to go there, show your prescription, and pick up your package.
You can place an order online, and pay with any Debit/Credit card, PayPal, or request a COD (Cash on Delivery).
[Type 2] International Legit Online Pharmacy
Offshore international pharmacies are much more interesting and are in demand. They can actually ship the medications to your doorstep. And the most important thing is that they don't require prescriptions. How is that legit? It's a jurisdiction issue. For example, a US citizen with a US prescription orders medications from a Spanish pharmacy, where the prescription is invalid anyway. Therefore, it really doesn't matter whether you have a prescription or not.
Aside from the prescription, the other good thing about them is that they can sell the medications really cheap. They source the medications from counties where labor is cheap. That does not mean the quality is bad. Big pharmaceuticals have manufacturing plants all over the world. The Pfizer Viagra that is made in the USA and the Pfizer plant in Thailand use the same formula, machinery, and system. However, the Thai Viagra is 1/8th the cost of the US Viagra.
You won't be able to order them on COD though. International online pharmacies accept Debit Card, Credit Card, PayPal, Western Union, Moneygram, and even Bitcoin (BTC) as their payment methods.
It is also important to remember that they are not able to ship the medications to you overnight. Standard shipping should take about 12 days and Express shipments arrive in 6 days. Therefore, if you plan to order your medication from a legit offshore international pharmacy, you should probably have some time in hand.
[Type 3] Fake Online Pharmacy
A fake online pharmacy (rouge pharmacy) is a total scam. They take your money and ship nothing. Unfortunately, there are more fake online pharmacies (90%) on the internet than legit ones, and this is the main focus of our discussion. Those who have been ordering mediation online for a while can probably identify them. Those who are new to this would most likely fall victims to their scams. We are here to provide you with tell-tale signs so that you can spot the fake. But first, let's find out how they operate.
How Do Fake Online Pharmacies Operate?
Most of the rogue pharmacies are from India or Pakistan. Since they are pretty good at IT stuff, they create a website and use some black hat SEO (Search Engine Optimization) techniques to rank high on Google. Google eventually figures them out, but it still may take 3-6 months to identify and de-index from the search results. In the meantime, since they appear so high (On the first page) of Google search results, they victimize plenty of people.
The scammers are also aware of the de-indexing process of Google. Therefore, they don't only operate one site- they create multiple sites. Their main target is the people without prescriptions. This way if they don't ship anything, the customer can't also file a complaint to any authorities. After all, the DEA will ask the customer first what he/she was doing ordering medications online without prescriptions.
Once someone has placed an order with them, they are quite active. They will email all the necessary payment information and if the customer asks for assistance, they will provide it. After the payment has been made, they will simply stop communicating. Emails will go unanswered and the phone number will be useless.
How to Spot a Fake Online Pharmacy
Now that we understand their operation style, we can begin to distinguish a fake online pharmacy from a real one. It's very subtle, but the characteristics are there. Here are the clues:
1. The Web Design and Functions
This is the first clue. Have you seen the same design on another online pharmacy before? Then at least one of them or both are fake. Since they operate multiple websites at once, they don't bother changing the design- same pictures, color profile, medication packages, and prices. They'll also have the same phone number (which actually doesn't work) and contact mail.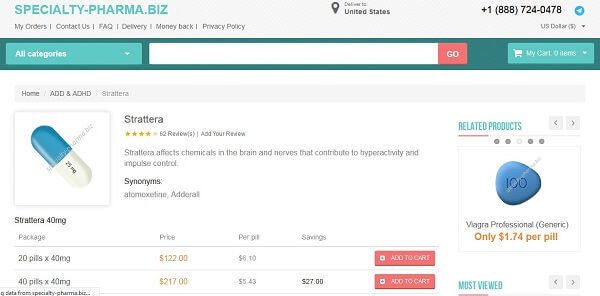 Shown above is a sample Fake Pharmacy Design. There are more than 100 sites with this same design template.
A. Fake Testimonials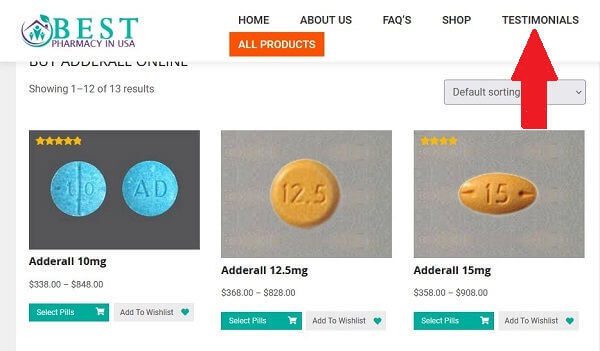 It's also very common in a fake online pharmacy. They either have a separate fake testimonial page or the testimonials just pop up on the side like a slide show. Legit online pharmacies will have 'Product Reviews' on the product page where actual customers leave comments and ratings with dates and usernames like "x2413", not a full name as displayed in the picture below. If you see an online pharmacy that has a separate testimonial page on its main menu, run from it. Remember, "No actual customers who buy medications online without prescriptions would write a testimonial exposing their real full name"– are they nuts?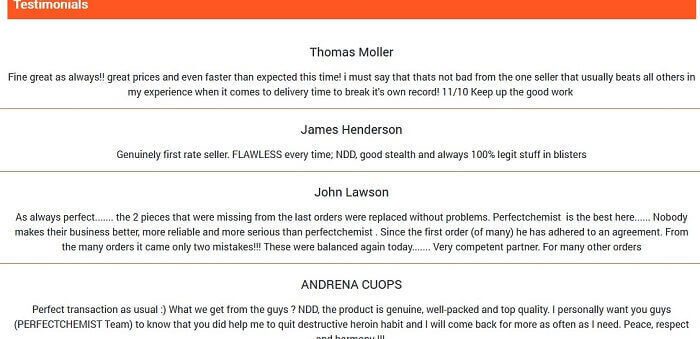 B. Google Search Result
As mentioned before, Fake Online Pharmacies do a trick with Google search results so that if you search for a medication say "Buy Cheap Adderall", their Adderall page will appear on the first page of Google. Yet, when you click it, you will notice that it's not that domain.

You can see in the image that the result appears to be some domain named "Armogas.Com", but if you click it, it won't go there. It'll be a completely different site with a different domain name like "mypharma.com".
Most customers are impatient and don't care enough, but the more reliable pharmacies can be found on the 3rd or the 4th page of Google Search Results. They don't do those back hat tricks so it's not likely that they are on the 1st page.
C. Domain Name is Different from the Actual Name
Since they copy the same design again and again to operate different sites and don't bother changing the design, the actual name of the pharmacy and the domain name are different.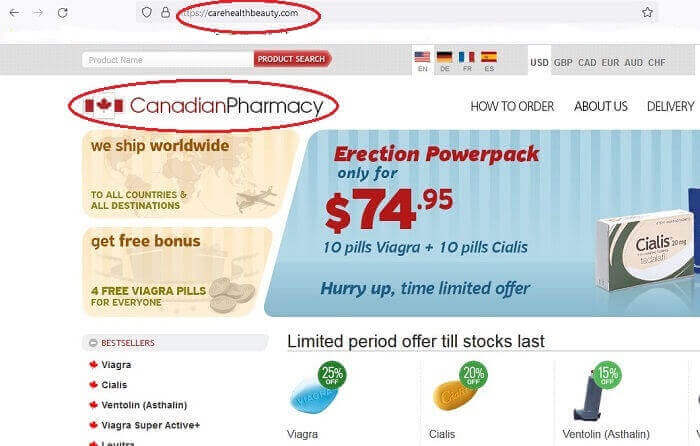 Name of the Pharmacy: Canadian Pharmacy
Name of the Domain: CareHealthBeauty.com
D. Copied and Photoshopped Pictures
Since they aren't a real pharmacy, they have no products to speak of. Their product pictures will be copied and photoshopped. A genuine online pharmacy has the products and takes pictures at their storage facility. They don't look as good, but at least they are real.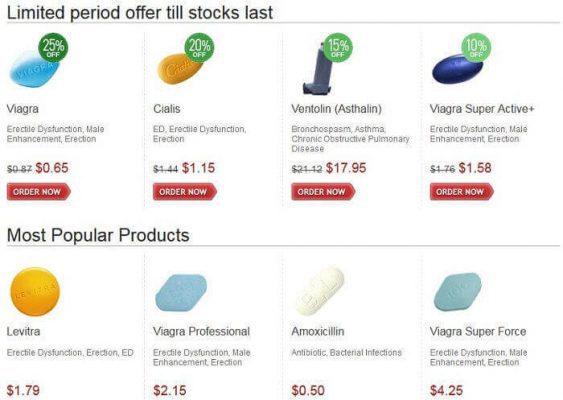 Can you spot the difference?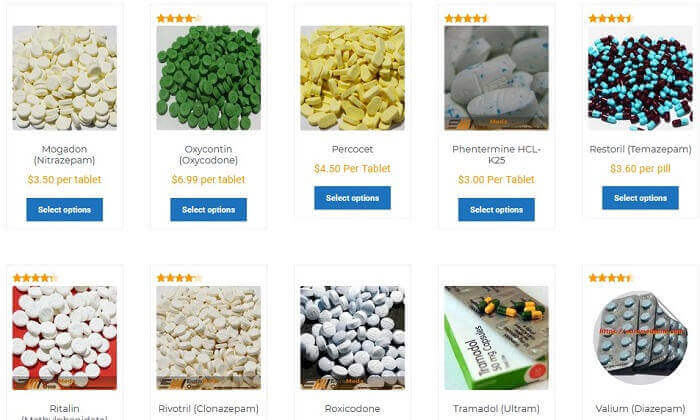 The second picture, though messy looking, was taken at an actual storage facility.
Here are two more examples where two completely different pharmacies have exactly the same product pictures. Don't also forget the Testimonial tab on the menu.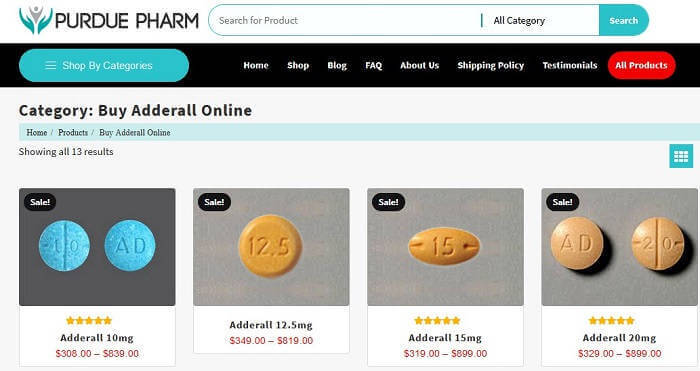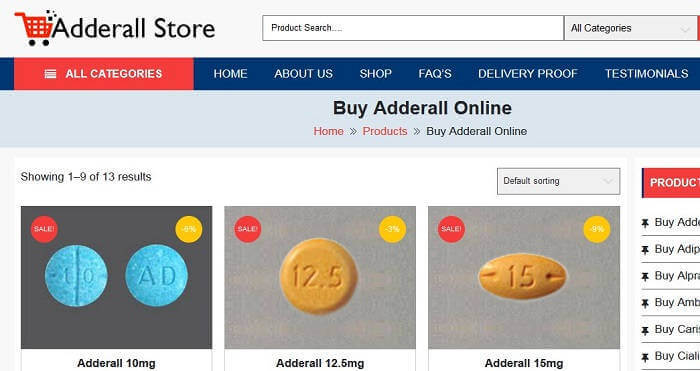 2. Communications and Customer Support
It is vital for a legit online pharmacy to have good communication channels and abilities.
Here is another tell-tale sign. Although located in a different country, a legit online pharmacy invests in proper customer support. They are not trying to get your money and run away so communications with them will be easy. Phone, chat, email, and text messaging must all work, and people behind those communication lines are trained professionals. You can spot them by their English (be it a call, text, or email). Following are the signs of a fake online pharmacy:
A. The Use of English
For a fake online pharmacy, whoever communicates with you will have bad English. They are just some IT people (Indian or Pakistani) and have no sense of customer support. You can identify them by their use of English (be it call, text or email)- grammar, pronunciation, and diction.
B. Phone Line/s
To appear legit, all the fraudulent pharmacies will display a phone number on their site. Again, most customers don't bother with it but please and please try giving them a call and see at least if the number is valid and working. You can also try sending a text message. If there is no reply, they are frauds.
C. Email
A fraudulent pharmacy tends to only communicate with emails since their phone number is not real and they can easily block you after you have sent your payment. And of course, you can identify the use of the English language on their emails as well.
3. Payment Processing
This is a very subtle difference. In this field, a legit online pharmacy [Type 2], and the fake online pharmacy [Type 3] operate almost the same way. Unless it is a legit local online pharmacy [Type 1], they can't attach the payment gateways on the site. Credit Card Merchants and PayPal require a prescription before they release the money to the pharmacy account. Since most Type 2, and Type 3 customers don't have prescriptions, the pharmacy cannot get the money. That's why the payment gateway is separated from the site. After you have placed an order, you will have to wait for a while and an email with payment instructions will come to your inbox.
A legit online pharmacy will accept all sorts of payment- Credit Card, Debit Card, PayPal, Western Union (WU), Moneygram (MG), and Bitcoin (BTC). WU, MG, and BTC are safer for those without prescriptions.
A fake online pharmacy will insist on Western Union, Moneygram or Bitcoin only. Sure, they will also have PayPal and Credit Card options on their site, but since the gateway is not attached to the site, and you have to wait for an email, you will get a mail like "We are having some problem with our PayPal so please pay using Bitcoin or Western Union." PayPal and Credit card payments are protected and you can file a chargeback and get your money back if they don't ship your order. WU, MG, or BTC are not like that. Once picked up, you cannot get your money back.
Both the Legit and the rogue pharmacies will offer a discount for using Western Union or Bitcoin. It is to cover the transfer charges. A legit one will recommend it but never insist. A fake online pharmacy will insist on it and won't process your order until you agree to pay via WU, MG, or BTC.
So how do you test them? It's really simple. If you don't know the pharmacy and would like to order medications, first, place a small order and choose the PayPal or Credit Card option. Wait for their email and check what they say. A legit one will thank you for your order and send an invoice link for the payment. If so, go ahead and pay. If you have received your first order, and you are satisfied with the quality, place larger orders next time and use Western Union or Moneygram for that discount.
A rogue pharmacy will give you some stupid reason why they can't process the payment with Credit Card and will ask you to pay via Bitcoin. If so, run for your life.
4. Shipping and Delivery
Remember that only a Local Legit Pharmacy [Type 1] can deliver overnight. Yet, if you have ordered prescription medications, they will not arrive at home. You have to pick it up from a pharmacy nearby where they will only release the package upon checking your prescription.
A Legit International Online pharmacy [Type 2] will not require a prescription and deliver your order at home. However, there will be no overnight shipments. Ask their customer support where the medications are shipped from and how long it takes, and you will get an honest answer. The shipments may take 6-10-15 days to arrive.
A fake online pharmacy [Type 3] may offer overnight delivery. It is a trap a lot of people fall into, especially in the USA. So that there is no doubt, "No local US pharmacy can legally ship prescription medications to a US citizen without prescription." If they say they can, it's 100% fake.
Last Few Words
There you have it. All the signs and signals you need to look out for in order to identify a fake online pharmacy from the real ones. It's not really that difficult. The evidence is right in front of your face. So don't go asking, "Is this a Legit Pharmacy?" Do you believe a rogue pharmacy will admit it?
I hope the information helps. We have also included a list of reliable online pharmacies in a separate article. If you have questions, leave a comment and we'll reply as soon as possible.
Related: 5 Best Online Pharmacies 2021